Regular price
$727.00 USD
Regular price
$716.00 USD
Sale price
$727.00 USD
Unit price
per
Sale
Sold out
Volume Based Discount: Buy More Save More
This bundle includes:

Analysis by Medical Clinical-Grade Whole Genome Sequencing (WGS, 20.000+ genes)

Personalized 

Hereditary Gastroenterology Disorders Panel
Raw data (

BAM, FASTQ, VCF files)

1 Free update on current and newly discovered genetic associations
Free logistics for sample collection
Share
View full details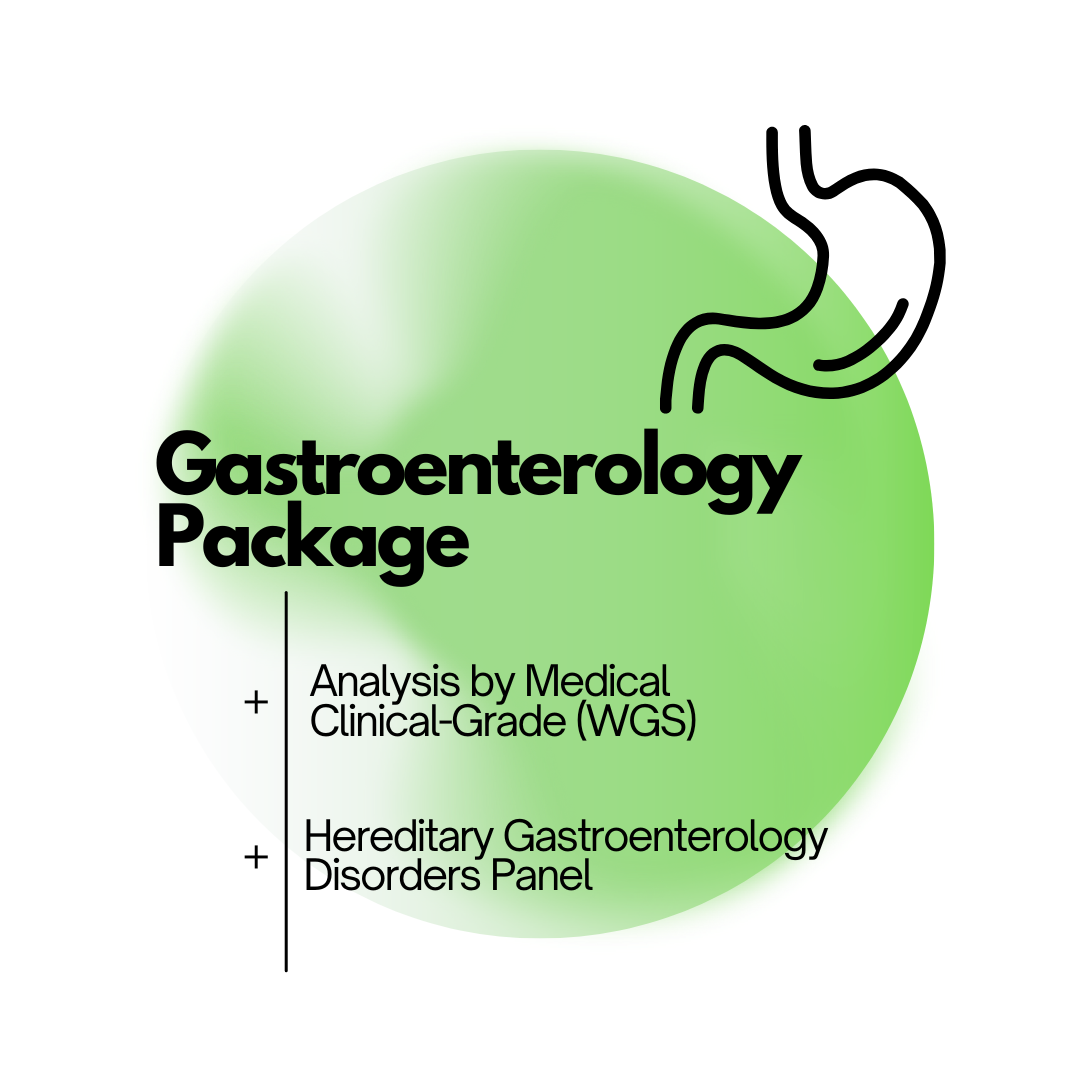 Description
Our Clinical Gastroenterology Whole Genome Sequencing test utilizes Clinical Grade Whole Genome Sequencing technology to provide the most comprehensive analysis of individuals' genetic makeup related to their gastrointestinal health.
With our advanced technology, we can identify the underlying genetic causes of many gastrointestinal conditions, including inflammatory bowel disease, celiac disease, and many more.
This test offers unparalleled accuracy and reliability, enabling people to receive personalized diagnoses and treatment plans that are tailored to their unique genetic makeup.

Benefits of our Clinical Gastroenterology Whole Genome Sequencing test include:
Early detection of genetic conditions: Our test can identify genetic mutations that may be contributing to different gastrointestinal conditions or can alert to the risk of developing other genetic conditions in the future, enabling individuals to take proactive steps towards prevention and early intervention.
Personalized treatment plans: With our advanced technology, we can recommend personalized treatment plans that are more effective and targeted than traditional one-size-fits-all approaches.
Improved accuracy of diagnosis: Our test offers an unprecedented level of accuracy and can help clinicians in the diagnosis of gastrointestinal conditions.
It's important to note that the decision to use WGS for diagnosing hereditary gastrointestinal disorders should always be made in consultation with an expert healthcare provider or genetic counsellor.

In addition to the Personalized Hereditary Gastroenterology Disorders Panel, we offer optional analyses that can be included in your package to provide even more personalized information about an individual's health.
These options include:
Collapsible content
1. Pharmacogenomics Whole Genome Sequencing Panel

This Panel provides personalized information about how the body processes medications. This analysis can help identify which medications may be more effective or cause adverse reactions, allowing healthcare providers to make more informed treatment decisions.
2. Wellness Whole Genome Sequencing Panel

This analysis includes Personalised Nutrigenetics, Fitness, Skincare and Wellness and Lifestyle panels and provides valuable information on how genetics may impact an individual's health and wellbeing, including personalized recommendations for diet, exercise, and skincare.
3. Full Genome Proactive screening analysis

Full Genome Proactive screening is based on whole genome sequencing, which includes all clinical panels. This report provides a comprehensive analysis of the genome and can identify genetic variants that increase risk for certain diseases, allowing individuals to take proactive steps to prevent or manage them.
Our clinical personalised whole genome sequencing test, along with our optional analyses, provides individuals and patients with the most comprehensive understanding of their genetic makeup and how it may impact their health.

As part of our service, we also provide the option for white-labelling and customisation of the package based on your needs. Contact us today to learn more about our test and the additional options available to you.